Car Mirror
Over 400 items for most Classics and Universal use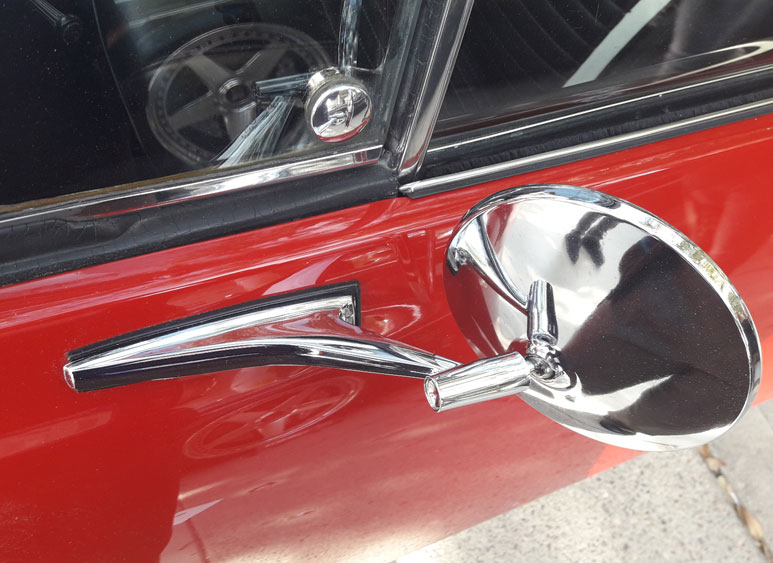 Classic car mirrors, Antique car mirrors, bullet racing mirrors, interior mirrors, fender mirrors, Talbot mirrors, Vitaloni mirrors, vintage Chrome Mirror.
Features
Pan Taiwan offers aftermarket classic car mirror for customers all over the world. We offer you various kinds of mirror, including interior driver's side, front view and rear view mirrors. Especially for rear view mirror, we offer a plenty of standard mirrors, such as Talbot mirrors, Vitaloni mirrors, Bullet Racking mirrors, Interior mirrors, Raydyot mirrors and Fender mirrors.

The size of these mirrors can be vary from 4", 5" up to 8", 12" depending on your type of vehicle. Moreover, some of the models can be customized with convex or flat mirrors. Moreover, the mirror we offer are with high quality plating. Each piece of them has a mirror-like, clean, and bright looking. That will definitely meet your expectation. Therefore, at Pan Taiwan, you are not only allowed to find the mirror you are looking for, but also the mirrors which can perfectly match with your vehicle.
Online Showroom
Pan Taiwan is capable of offering multiple types of mirrors with several sizes and various specifications. We are confident that we can meet your needs when you are looking for mirrors for your cars.
---
Press Release
Online Showroom of Top Selling Mercedes Parts

Pan Taiwan's latest video is about our hot selling products of Mercedes parts. We have selected the top 3 best-selling items to present to you. They are body trim, window seal, and window...

Read More

Capacity of Customized Service

With years of experience, Pan Taiwan is expertise in duplicating parts for our customers. We have already reproduced for more than 5000 parts. In this video, Pan Taiwan is going to convince...

Read More

Online Showroom of Window Regulator

In this video, Pan Taiwan will show you why we are your best choice regarding the quality of products and the service we offer when it comes to window regulator.

Read More