Car Mirror
Over 400 items for most Classics and Universal use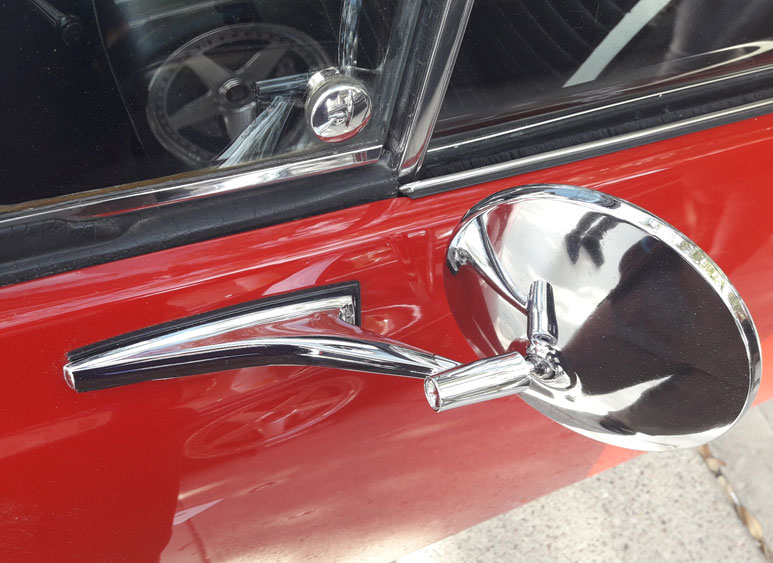 Classic car mirrors, Antique car mirrors, bullet racing mirrors, interior mirrors, fender mirrors, Talbot mirrors, Vitaloni mirrors, vintage Chrome Mirror.
Features
Purchase a newly restored mirrors to upgrade your classic cars and keep the classic look of your cars. We offer many different mirror styles such as Talbot mirrors, Vitaloni mirrors, Bullet Racking mirrors, Vintage style Racing mirrors, Interior mirrors, Raydyot mirrors, wink mirrors and fender mirrors…etc. with highly polished stainless steel, deep chrome finish, or good painting finish. These great looking chrome & polishing mirrors are the must! They look great on any classics and include the hardware & plates to easily fit door skins. We are proud to provide high quality mirrors to compliment most classics, muscle cars, vans and pickup trucks to satisfy your expectation.

Besides all the products shown on our website, we can provide replacement mirror glass in flat and convex or provide various mounting systems to suit the applications by your requests. We also can duplicate and customize parts from your original samples. It is always valuable investment to keep the classic look of the cars. You are welcome to visit our Reverse Engineering Service to know our capacity.

Please feel free to contact us for any additional information or inquiry!
---
Press Release
40 Year Anniversary

We are so glad to celebrate Pan Taiwan's 40 year anniversary. We had a big party and invited many friends to join us. Happy Birthday Pan Taiwan!

Read More

Interview Sam

Taiwan Automotive Insider interviewed our general manager Sam and wrote a great report for their autumn issue in 2017.

Read More

New Products

It is important to bookmark our website because we frequently release new products on our e-catalogue.

Read More