2020 Exhibition Plan Re-scheduled
2020/06/17
Sharon Lee
Due to the effects of COVID-19, many activities have been cancelled or postponed. Originally Pan Taiwan planned to attend four exhibitions in 2020. They are AMPA in Taipei, Automechanika in Frankfurt, IAA in Hannover and SEMA in Las Vegas.

We were sorry to be informed that both Automechanika and IAA 2020 were cancelled this year. It's really a pity. However, AMPA will be re-scheduled on Oct. 21-24, so we might still have the chance to meet you in Taiwan. If we have this honor to talk with you in face here, please make sure to save at least half a day for us so that we could show you our brand new remodeled show room and office.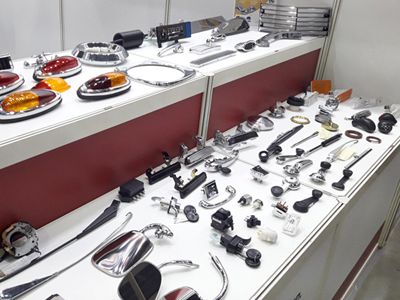 We understand if you still have concerns to travel overseas.  Therefore, we have also organized new e-catalogues for you to review.  Our new products include Honda CRV window regulator since 2017, power mirror for Japanese car, and engine mounts.  We look forward to meeting you online and/or offline.Cheers!
Products

EP065047

---

Power window regulator for Nissan 350Z 2003-09, OEM# 80721-CD01AAll of our window regulators are made in Taiwan. Plus, we are certificated by ISO 9001. Hence, we can assure the high quality of our products. Moreover, we offer warranty for one year for every window regulators we sell. In addition, we serve you with the best service. First, we provide flexible lead time. Next, we are welcome to multiple payment methods (ex. Bank transfer, credit card, PayPal) and various packing options. Your needs will be satisfied only here by Pan Taiwan.

---

EP093524

---

for W108, W109 1965-1972, W114, W115 1968-1976.(1) Exterior rear view mirror (2) The replacement part comes with 12 months warranty. (3) Pan Taiwan has good collection of vintage classic car parts. All of Vintage classic car parts on website are available. If specific products are not available, we can offer you reverse engineering servicePan Taiwan offer many different mirror styles such as Talbot mirrors, Vitaloni mirrors, Bullet Racking mirrors, Vintage style Racing mirrors, Interior mirrors, Raydyot mirrors, wink mirrors and fender mirrors. All mirrors are with highly polished stainless steel, mirror chrome plating, or good painting finish. They look great on any classics and include the hardware & plates to easily fit door skins. We are proud to provide high quality mirrors to compliment most classics, muscle cars, vans and pickup trucks to satisfy your expectation.

---

---
Press Release
Online Showroom of Window Regulator

In this video, Pan Taiwan will show you why we are your best choice regarding the quality of products and the service we offer when it comes to window regulator.

Read More

Capacity of Customized Service

With years of experience, Pan Taiwan is expertise in duplicating parts for our customers. We have already reproduced for more than 5000 parts. In this video, Pan Taiwan is going to convince...

Read More

Online Showroom of Car Mirror

Pan Taiwan offers various kinds of mirrors for multiple brands of classic car. Moreover, we even provide choices of convex or flat mirror to fit your needs. In this video, you will get to see all of those...

Read More