New Video! Online Showroom for Car Mirror
2021/02/08
Pan Taiwan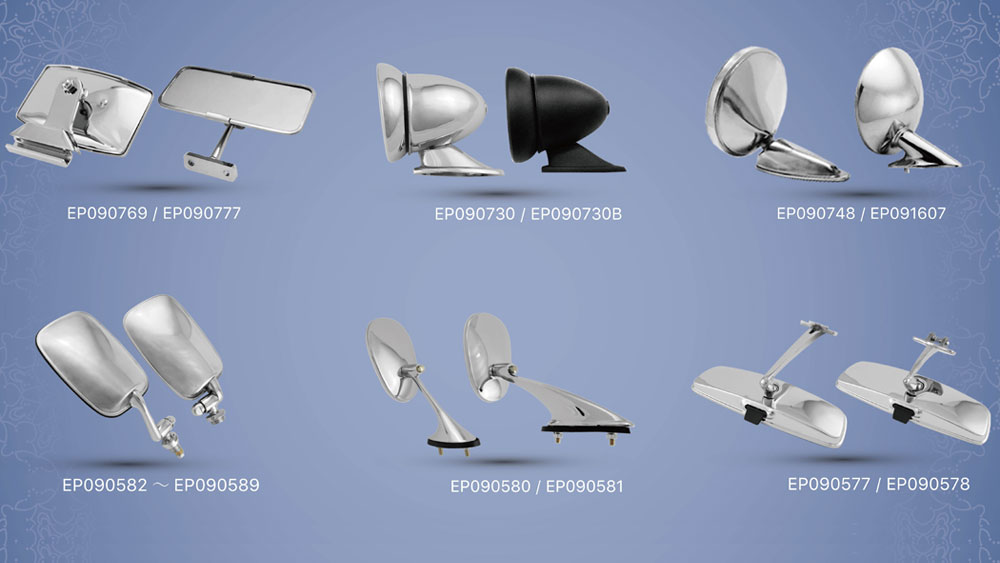 Pan Taiwan offers various kinds of mirrors for multiple brands of classic car. Moreover, we even provide choices of convex or flat mirror to fit your needs. In this video, you will get to see all of those mirrors with clear introduction. For more information, you are very welcome to browse them on our website.
Here is the key points for you.
0:30-0:35 Different Sizes of Mirrors
0:58- 1:15 Mirror types (Talbot, Vitaloni, Bullet Racing, Interior, Raydyot, Fender)
1:23- 1:41 Options for Convex or Flat Mirrors (applicable for long or short cars)
1:44-2:08 Day-Night selection for Interior Rearview Mirror
We appreciate your attention and hope you find it useful. Stay tuned and see you on the next video!
Online Showroom for Car Mirror
0:30-0:35 Different Sizes of Mirrors 0:58- 1:15 Mirror types (Talbot, Vitaloni, Bullet Racing, Interior, Raydyot, Fender) 1:23- 1:41 Options for Convex or Flat Mirrors (applicable for long or short cars) 1:44-2:08 Day-Night selection for Interior Rearview Mirror
Press Release
Online Showroom of Window Regulator

In this video, Pan Taiwan will show you why we are your best choice regarding the quality of products and the service we offer when it comes to window regulator.

Read More

Capacity of Customized Service

With years of experience, Pan Taiwan is expertise in duplicating parts for our customers. We have already reproduced for more than 5000 parts. In this video, Pan Taiwan is going to convince...

Read More

Online Showroom of Car Mirror

Pan Taiwan offers various kinds of mirrors for multiple brands of classic car. Moreover, we even provide choices of convex or flat mirror to fit your needs. In this video, you will get to see all of those...

Read More