Chrome Window Crank Handle for Porsche 356A 1955-59, 356B 1960-63, 356C 1964-65
EP092934
Window Winder Handle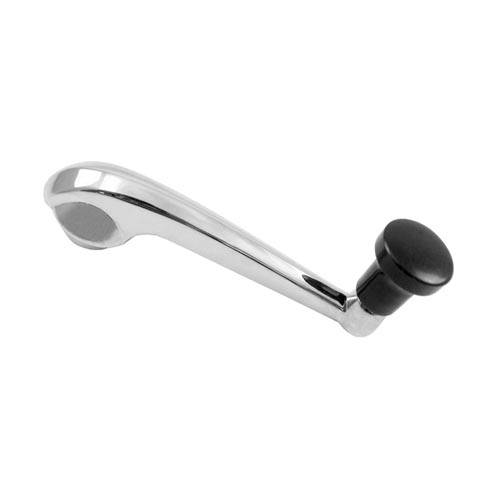 for Porsche 356A 1955-1959, 356B 1960-1963, 356C 1964-1965.

(1) The replacement part comes with 12 months warranty.
(2) Pan Taiwan has good collection of vintage classic car parts. All of Vintage classic car parts on website are available. If specific products are not available, we can offer you reverse engineering service.

Pan Taiwan has good collection of aftermarket door handles and window handles for classic cars. Both outside handles and interiror handles are available. Our strength is the very good quality in polished zinc die-casting handles with chrome plating finish. Reverse engineering service are also avaiable.
MAKER
Porsche

MODEL
356

YEAR
1955-1959
1960-1963
1964-1965

OE#
64454247001
644-542-470-01
644 542 470 01
644.542.470.01

Warranty
12 Months

Applications
Window Crank Handle for Porsche Porsche 356A 1955-1959, 356B 1960-1963, 356C 1964-1965
Material & Finish
Unit
Package
Country of Origin
Movies

Online Exhibition of Classic Car Parts

Related Products

EP090331

---

for Porsche 914 1973-1976.(1) Zinc Black Finish (2) The replacement part comes with 12 months warranty. (3) Pan Taiwan has good collection of vintage classic car parts. All of Vintage classic car parts on website are available. If specific products are not available, we can offer you reverse engineering service.Pan Taiwan has good collection of aftermarket door handles and window handles for classic cars. Both outside handles and interiror handles are available. Our strength is the very good quality in polished zinc die-casting handles with chrome plating finish. Reverse engineering service are also avaiable.

---

---

Files Download

---

More than 100 items we can offer for the classic Porsche models, including Tail lights, Side lamps, Exterior mirrors, Bullet mirrors, Window handles, Power window switches, Turn signal switches, Synchronizer rings, Ignition lock cylinders, Gas springs, Fuel caps, Steering rack boots, Wiper blades, Tie rod ends, Oil seals, Fuel pumps.

---

---
Press Release
Online Showroom of Top Selling Mercedes Parts

Pan Taiwan's latest video is about our hot selling products of Mercedes parts. We have selected the top 3 best-selling items to present to you. They are body trim, window seal, and window...

Read More

Capacity of Customized Service

With years of experience, Pan Taiwan is expertise in duplicating parts for our customers. We have already reproduced for more than 5000 parts. In this video, Pan Taiwan is going to convince...

Read More

Online Showroom of Window Regulator

In this video, Pan Taiwan will show you why we are your best choice regarding the quality of products and the service we offer when it comes to window regulator.

Read More